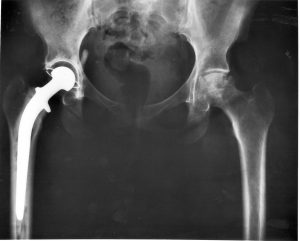 If you need an operation you need it now – not in two years time when you reach the top of your local NHS waiting list. While you are waiting, your condition worsens, your muscles weaken, and your health deteriorates. Those people who either pay their local surgeon to do something that is part of his day job or more sensibly go abroad for treatment, are acting in their own best interests. Few people in this country cannot afford to do something that costs less than the latest hi-tech TV or foreign holiday, it is largely a question of values, priorities and beliefs. The NHS is no longer run in the patients' best interests. Get over it.
My father was a consultant physician at the local hospital. In his retirement needed his second hip replacing. Being a loyal citizen of the NHS, he went to the local hospital, was seen by the local orthopaedic surgeon and put on the local NHS waiting list. Two years later, his ticket came up and he was duly reviewed by the local orthopaedic surgeon. At this stage, the local surgeon (wisely enough) decided that his hip was too far gone for surgery and that he should make do with painkillers and a wheelchair.
My father, who by now, was 79, and had fought with the Chindits in WW2 was not about to settle for a life of invalidity. He invoked his private medical insurance, found an orthopaedic surgeon in Oxford, who specialised in hip replacements and had his operation in a private hospital just outside Oxford. Post-operatively, he had a stormy course. Without a doubt, the local NHS would have baulked at putting a 79-year old man on a ventilator for a month. However this private hospital had a socialist approach 'to each according to their need'. They kept him free of bed sores and chest infections for a month while he got over the surgery, and then for a further month until he had recovered sufficiently to go to a nursing home. From where, due to his single-minded determination, he went home. His favorite complaint 'No one else seems to want to go home, what's wrong with them?' – 'Yes father'
BUPA, (bless them – on this occasion at least) footed the bill, and after two months in a local Nursing Home, my father returned home and lived another ten years largely self-caring. Two weeks before his sudden death on his 91st Birthday, he was riding around town on his mobility scooter. Not a bad outcome.
His journey would have however been easier, if he had his hip replacement when he needed it – rather than being on a elastic NHS waiting list for so long that he was np longer fit for NHS surgery and needed to go to a specialist 100 miles away.
Waiting lists are unheard of elsewhere Europe and the US. Waiting lists cost lives, health and quality of life. They are expensive to administer, as patients fall prey to avoidable complications and incidental admisssions. My father, like every other citizen of this counrty deserved better. It is not about spending more it is about being better organised and getting on the work that needs doing.